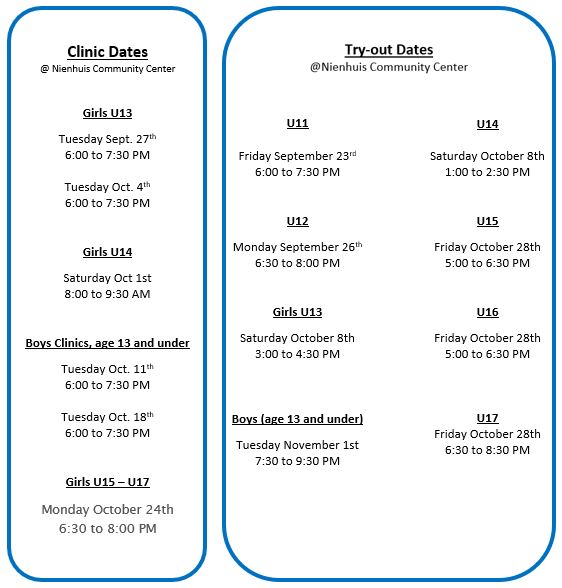 **Clinics are Free, register online
U15/U16/U17 Make up tryouts Tuesday Nov1st 6:00 pm - 7:30 pm Please email us to reserve your spot at bavc@cox.net


Tryouts

All players will need to register with USAV at https://okrva.com/registration/. Use the USAV Memberships - Join through SportsEngine link at the bottom of the page. Cost is $55 to USAV. DO THIS AFTER SEPTEMBER 1ST, AND VERIFY YOU ARE PURCHASING FOR THE 2022-2023 SEASON. When registering if asked for a club choose "undecided". Once registered, the e-mail you used to register and pay under must be the same e-mail provided to the club. Your purchased USAV/SportsEngine membership is connected to that e-mail address. Please check the USA Volleyball age chart to know what age group your child is in (click here).

The age of your player on June 30 of next year is the age group for the player.
"My child will be ____ years old June 30 of next year."
Register for our tryouts at http://www.bavc.club/leagues, also found by selecting our "Join a League" or "League sign-ups" options on our website. There will be a $35 fee to participate in the tryouts.

Offers will be made to the players selected within a day. Please note that 10 year olds may have to play up in the 11 year old (U11) Division. Deadline to accept will be announced.

Although we would like to include as many players as possible, this is COMPETITIVE volleyball. NOT everyone will make tryouts. Players will be judged based on skill level and how much improvement may be needed prior to tournament play. These teams will be playing against experienced teams in a competitive environment and will need to be able to compete. Some players may have great potential but may be determined to not be ready for competitive play in time for tournaments. If your child is not quite ready, we recommend continuing with the recreational league and attending clinics/skill camps as they are available to prepare for next season. Please be aware being selected for a team is NOT guaranteed. The USAV membership fee is refundable by contacting OKRVA through their website.
Costs
Initial costs of $55 for the OKRVA sanction, and $35 tryout fee.
Player cost: $1200
Optional backpacks will be offered at an additional cost.

Player cost includes Coaches fees, uniform consisting of 2 jerseys, 1 pair of shorts, Hoodie, 2 practice shirts, gym time, tournament fees, and team registration with OKRVA. This will be payable through the BAVC website.
$200 is due at contract signing. A 3-month Payment plan is available for the remaining balance (payments due Nov 15th, Dec 15th, Jan 15th). There are no refunds. Late fees will be charged as needed. For online payments there is an extra 3% processing fee, this can be negated by paying with check or cash.


Practices
Practices will start on November 28th. Practices will be 2-3 times a week.
Tournaments
Tournaments will begin in January. Specific tournaments to attend will be decided after teams are formed, and coaches have a chance to work with their players. Our goal is to attend 1-2 per month starting in January. 8 - 10 tournaments in total. This includes Regionals, 1 travel tournament, and 6-8 Oklahoma tournaments.
Coaches:
U11 - Janet Tyler
U12 - Megan Brands
U13 - Sean Kelley

U13 Boys - Ross Tyler

U14 - Patrick Ramirez

U15 - Karlye Wagoner

U16 - Head Coach - Ashley Hager, Assistant Coach Jennifer Zuniga

U17 - Head Coach - Ashley Hager, Assistant Coach Jennifer Zuniga